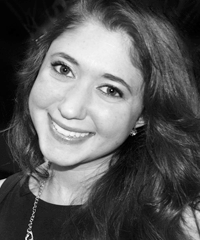 Amy Turek
Marketing Communications Coordinator
1. How long have you worked for Creatis?
I've worked for Creatis for almost eight months.
2. Why do you love Creatis?
I love Creatis because they opened up a door of opportunity for me that I probably never would have found on my own. They give their associates the chance to explore different industries, positions and more — and they take great care in helping them find the perfect fit.

3. Professionally speaking — what makes you special?
I am up for anything. I love to learn and will take a stab at whatever is thrown at me!
4. What are your hidden talents?
Give me a Pinterest project and I will make it look (or taste) just as good, if not better! I love getting creative and making gifts for family and friends.
5. If you had the skills, money or talent to do any job in the world you could — what would it be?
I love to travel, so any job that would help me see the world would be perfect! I've also always been intrigued by the advertising industry. To be able to work on a team that develops a crazy advertising campaign for a well-known brand would be a lot of fun.