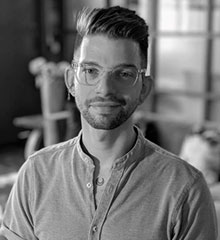 Joshua Copeland
Studio Designer
---
Write a short summary of your background/experience.
I moved here from Maryland to attend the Minneapolis college of art and design. While in school I was interested in working creating unique spaces online for users to interact in new ways directly and through social media. I have had internships in design dealing with music, spatial branding and I've worked in advertising firms and in digital print production.
Why do you love Creatis?
It's a place where Ill never know what Ill be working on the next day. Things are always different day to day.
Professionally speaking — what makes you special?
I really enjoy pushing the boundaries of what does a brand look like. Even within a restrictive set of guidelines how can we show more personality and variance to the client/consumer.
What are your hidden talents?
I am a relatively successful plant dad.
If you had the skills, money or talent to do any job in the world you could — what would it be?
I would most likely still be a graphic designer but would prefer to own my own firm.
---