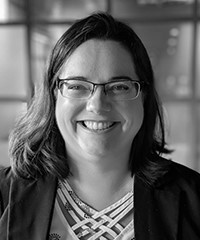 Mel Viens
PowerPoint Designer
2019 Core Value Award Winner
---
SHARED JOURNEY
---
Creatis Employee Since:
January 2010
Client Supported:
Creatis Studio, UnitedHealthcare, Cargill, Optum
Shared Journey Core Value:
Create opportunities and build something bigger than yourself - pay it forward.
Taking personal responsibility for one's actions and working to build something bigger than oneself. Being part of the Creatis family over time – and always being committed to the success of Creatis for the long-term. Recognizing that sometimes the journey together IS the reward.
Why Mel?
Mel is the first Creatis employee to win multiple awards (2012 "Teamwork" award), and there's no one more deserving!
Our 9+ year shared journey with Mel is the kind of partnership Creatis strives for – working closely with our employee to build a long-lasting, meaningful career of supporting our clients.

Mel's skills in PowerPoint design make her an invaluable asset – as she's able to step in right away to help clients get work done for which they couldn't devote full-time resources toward. This is true of her engagements at UnitedHealthcare, Optum & Cargill and in the Creatis Studio.

Because of her great work & reputation, Mel has been recognized by hiring managers at United Health Group and referred them to us – as well as notified her on-site clients about our studio services. All this has translated to long-term success for Mel's journey with Creatis.
---