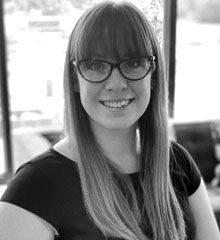 This email address is being protected from spambots. You need JavaScript enabled to view it.
Jessica Brenner
Accounting/HR/Operations Specialist
---
Write a short summary of your background/experience.
My educational background includes a Bachelor's degree in Psychology. In college, I was trained in cross-cultural sensitivity which has been enormously helpful in supporting diversity and inclusion in the workplace. My professional background includes experience in small businesses, non-profits, corporations, and government; my strengths are in accounting, human resources, administration, and business operations.
Why do you love Creatis?
The people! From our corporate office staff to our studio and staffing teams to our clients to our board – everyone has a common goal in mind and we all work to achieve that goal. Creatis truly believes in its core values and uses those values to further its mission and maintain its excellent reputation in the Twin Cities.

Professionally speaking — what makes you special?
The two primary skills I attribute to my professional success have been: 1.) my ability to positively interact with a wide range of individuals with diverse backgrounds and personalities, and 2.) my inability to produce subpar work that I would not be proud enough to attach my name to.
What are your hidden talents?
I'm an alright rock climber, if I do say so myself! Another secret skill is helping you figure out your Enneagram (personality framework) type thanks to my background in Psychology; I have been studying the Enneagram for over a decade!
If you had the skills, money or talent to do any job in the world you could — what would it be?
A student! I would love to stay in school forever (minus the homework). I would enjoy continuing my education for the sake of learning rather than the sake of earning a degree.
---