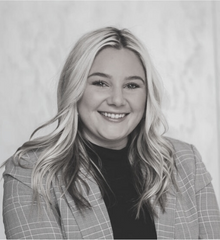 This email address is being protected from spambots. You need JavaScript enabled to view it.
Alaina Kittrell
Account Management Coordinator
---
Can you give us a short summary of your background and experience?
I've worked in marketing and account management since graduating college in 2017 (from Luther College – go Norse!), but mostly in the tech and start-up spaces. The skills I've gained from those positions have primed me for my new adventure in staffing and recruiting!
Why do you love Creatis?
Since day one, every single person has been so welcoming and kind. Creatis is a place where everyone cares about your success and will be your biggest cheerleader on the sidelines as you work towards your goals.Professionally speaking — what makes you special?
Professionally speaking - what makes you special?
I'm an open book and can talk to anyone, which comes in handy when speaking to individuals from all walks of life.
What are your hidden talents?
I'm a sponge for useless knowledge, which makes me a really great addition to trivia teams!
If you had the skills, money, or talent to do any job in the world you could — what would it be?
Ever since I was little, I've wanted to be the person who names nail polishes, lipsticks, and so on. So definitely that!
---