episode 3
Measure Twice, Cut Once—Featuring Andrew Benson & John Dusek
When Shakespeare wrote "To thine own self be true," he might have been talking about Andrew Benson and John Dusek, who together co-founded Straight Line Theory, a company focused solely on user experience (UX) research and design. Andrew and John join the podcast to help us understand what UX design is all about, the challenges of developing digital products that are easy to use, and why users should influence technology, not the other way around.
Our Guests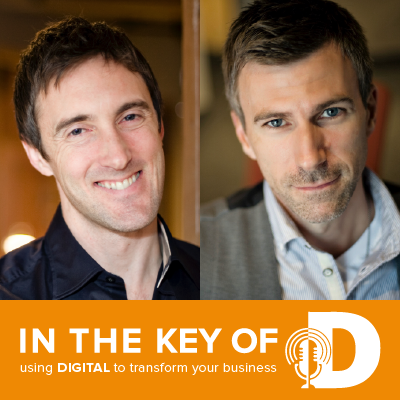 Andrew Benson and John Dusek
Andrew Benson and John Dusek are co-founders of Straight Line Theory. Founded in 2002, Straight Line Theory is a UX research and design company based in Minneapolis. Their team helps companies make web sites, apps and digital products easier to use.
Straight Line Theory has worked with Target, UnitedHealth Group, Google, and other innovative businesses to better understand their customers and create smart, effective digital experiences.
Show Notes
In this episode we cover:
Andrew Benson & John Dusek Introduction [1:00]
Why did Andrew and John start "Straight Line Theory" in 2002? [1:35]
What is User Experience (UX) design? [4:05]
How is UX different than UI (User Interface)? [7:35]
How do "usability tests" actually work? [8:30]
Where does UX fit with a company thinking about doing a bigger digital transformation? [9:47]
Digital empowers customers. How do you ensure that giving customers new freedoms also makes it easier for them to use digital products? [10:57]
How does a company get started improving digital experience for customers? [15:05]
UX fits in everywhere from a digital transformation perspective. How does collaboration with users work? How does the prototyping process work? [16:20]
How does Straight Line Theory continue to operate and collaborate with users during the COVID-19 crisis? [18:20]
How do you focus your UX research given all the different digital devices available for users? [22:28]
Rapid Fire! Fun facts and fast answers with John and Andrew [24:35]
Wrap Up Questions: How do John and Andrew stay current with changing customer expectations and digital possibilities? [30:10]
Kathy and Gino's "Key" Takeaways [34:07]
Links & Resources:
"Key" Takeaways:
UX design is focused on 4 phases: Research, Refine, Test, Define
It's so important for companies to watch users actually use their digital products to identify pain points, inconsistencies and what is working.
The key to successful UX design is a "measure twice, cut once" mentality. Usability testing is critical.
The customer should influence the way the technology is built, not the other way around.