Call me difficult - but why do I have to pick two?
Over the course of my 30-year career in marketing, I've had the privilege (and pain) of managing many large marketing, CRM, customer database and web projects working with some very talented IT and Project Management professionals. One thing I often heard was, "Well, Kathy, you can have it cheap, you can have it fast, or you can have it good. Which two do you want?"
To tell you the truth, I always thought that question was a bit lame and just a way for my IT and Six Sigma colleagues to have an 'out' in case the project didn't go well. I've since learned that it is actually rooted in the Project Management Triangle (also called the Triple Constraint or Iron Triangle) which depicts the typical constraints of time, cost and quality that projects like these often have.
Now I certainly am smart enough to 'get' that all projects or marketing initiatives are managed within certain constraints. That trade-offs are sometimes required. But why force me to pick two of these conditions? "I mean, c'mon," I'd say. "Surely we can at least START the work talking about how we can collectively complete the project quickly, within budget and with great results, right?!"
Of course I learned over time that trade-offs are often required in business, and that making the RIGHT trade-off was a skill that I had to quickly develop to be successful as a business leader.
And that's what I always loved as a previous client of Creatis - no trade-offs were required! The Creatis business model is specifically built to deliver ALL three of these at once to clients - providing high quality resources, available right when you need them and at a "no-excess" cost that made the work very affordable and kept me within budget.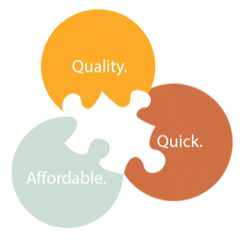 Quality. Quick. Affordable. No trade-offs required. Because why settle for just two when you really can have all three with Creatis?
---