Core (value) work
About a month ago, I started running - for exercise, not necessarily for fun. Unfortunately, I didn't take the time to stretch before or after my runs. Last week, when I woke up the day after a particularly grueling run around Lake of the Isles, I was hobbling around with sharp muscle pain in my legs. My partner gave me a look that was one-part 'pity', two-parts 'I-told-you-so.' She's a contemporary ballet dancer, so she understands that stretching and core work aren't extra things to do post-workout if you feel like it -- they are part of the workout itself - essential to it. These exercises improve your stability, balance, and help you avoid injury and soreness.
I'll be honest with you. I've always hated stretching and core exercises.
Which made me think: Could the principle of focusing on doing something necessary to meet your goals apply to other things in life? Even if that work can be difficult?

Yes. Here's the parallel: Running a business requires similar core work. Defining and practicing a set of "vital and timeless guiding principles for your company"* is the foundation of not only stability, but growth and success. But it's about much more than paying lip service to the principles; you have to keep working on them. Like exercising. You do the core work, you see the results.

You may think this analogy is a stretch (pardon the pun), but after 2 years as an employee at Creatis, I've witnessed the positive impact and growth of a company practicing what they preach. What's more: I wouldn't want to work somewhere that didn't uphold its core values. Our leadership team discusses these values at meetings with clients, employees, personal contacts, and the internal team. With any and everyone. These guiding principles were built into the Creatis DNA from the get-go back in 1998 and they've been worked on and worked out every day since.

Creatis Core Values:
DO WHAT'S RIGHT, BE EXCELLENT, OF SERVICE, TEAMWORK, PARTNERSHIP, SHARED JOURNEY

I started out with Creatis as the Staffing Specialist in April of 2016. I helped source and place the best possible Creatis employees on our clients' teams so that they could get more work done quickly and done well. What stuck out to me immediately were the people at Creatis - both the home office team and those on assignment with our clients. They were people who put others first. Who believed in excellence and doing the right thing, even if it was hard or inconvenient. People who didn't make excuses and encouraged each other to be the best - designer/writer/project manager/marketing specialist et al. - that they could be.

Our employees were not simply expendable numbers to our staffing team (which is something I've personally experienced in the past working as a candidate with other staffing firms). To Creatis, each employee is a unique individual who brings diverse skill sets and personalities to the table, and everyone must be treated with respect. But the standards remained high. We have the best marketing expertise for a reason. Inflated egos, however, have no place at Creatis, a precedent that is set and upheld by the leadership team. It's all about teamwork, having a "We not Me" mentality.

I remember, after my first few months on the job, considering how remarkable it was that so many Creatis employees stayed for years and years, working multiple contracts; or how certain employees who were hired by a client company ended up becoming our clients. There seemed to be some secret sauce to help Creatis create and sustain business so organically, without resorting to abrasive or misleading sales tactics. How did they hire and keep expert marketers in the ever-changing industry?
Then something clicked. I don't know when the exact moment was, but I had a little "Eureka!"

Creatis sees continued success because we have truly fostered a sense of belonging, a sense that sharing a journey together can help everyone stretch, grow and achieve their goals. We know how to attract the right people to the right seats, and keep working on it through a sort of 'daily renewal of vows' to our Core Values.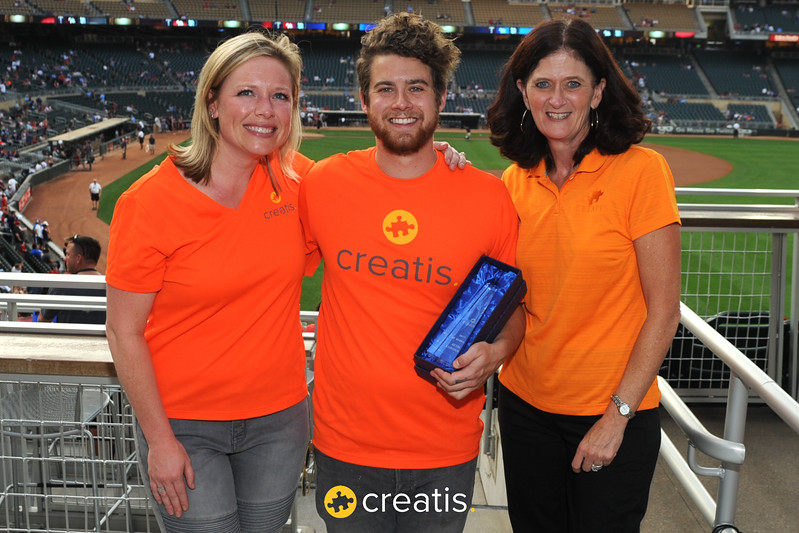 In 2017, I was honored to be selected as a Core Value Award Winner for being "Of Service." Every year, we honor 6 employees - either at the home office or onsite at a client - who most exemplify one of the 6 Creatis values. It's a tradition rooted in the desire to reward, recognize and thank the exceptional people partnering with Creatis. We have just selected 2018's Core Value Award Winners, and they're a pretty versatile and exceptional bunch. You can read up on them here!

They say it takes a village to raise a child and, I've discovered, to run a successful business. And I'm grateful to have been able to contribute to this village for the past 2 years.

Now, if you'll excuse me, I need to get back to doing some stretching and core work of my before my next run. See you on the trail.

*Gino Wickman, from "Traction"