episode 1
Let's Get Digital—Featuring Kathy Hollenhorst & Gino Giovannelli
What is digital transformation and why does it matter to business leaders, entrepreneurs, and professionals? In this pilot episode for "In the Key of D" host Kathy Hollenhorst and co-host Gino Giovannelli help frame-up the big questions around using digital, how to get started, and preview the fascinating topics we'll dig into with our guests.
Meet Our Hosts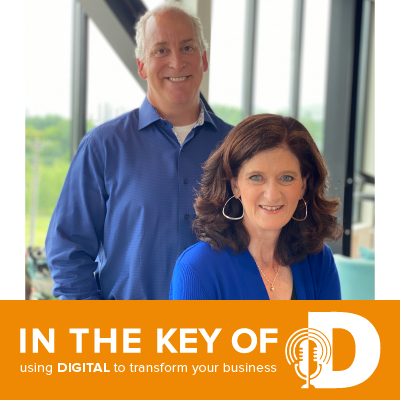 Kathy Hollenhorst & Gino Giovannelli
Kathy Hollenhorst and Gino Giovannelli are longtime colleagues, business partners and friends. They began working together in digital transformation nearly 20 years ago through their collaborative work for Radisson Hotels; where they were tasked with developing innovative e-commerce solutions for the company-at a time when using digital was mostly an unknown, unproven strategy for business leaders. But Kathy and Gino shared a unique passion for lifelong learning and the amazing ways digital could make businesses better. Beyond business, these two share a connection over music. Gino plays the drums and percussion in several bands around the Twin Cities and Kathy loves to break out a good tune on her harmonica from time to time--always in the key of D, of course.
For more information on Kathy and Gino's individual backgrounds and expertise, click here.
Show Notes
In this episode we cover:
Gino Giovannelli Introduction (1:00)
How Gino defines digital transformation (1:45)
How do you keep all the moving parts of digital straight? (3:30)
What are the upsides in favor of digital transformation? (6:06)
What is holding companies back from doing digital well? (8:58)
The importance of vision and strategy; leadership's role in digital transformation (12:34)
Who benefits when a company goes digital? (15:40)
Rapid Fire! Fun facts and fast answers with Gino (18:50)
Closing Thoughts - How do we stay current with digital? (21:35)
Links & Resources
"Key" Takeaways
[On digital strategy and action] Think big, start small, move fast.
[On learning how to use digital] "Immerse yourself in situations where you're forced to figure it out...Don't ask yourself if you HAVE done it; ask yourself if you CAN do it." - Gino Giovannelli
There are 2 main buckets of digital transformation: 1. People (enablers, process), 2. Touchpoints (customer experience, responsive design, technology, analytics)
The biggest winner of digital transformation is the customer.