episode 15
Stand It Up, See What Happens with Jake Miller
Jake Miller is a human mission statement. The Founder and CEO of Fellow embodies his company's mission to help people brew ridiculously good coffee by offering the best gear and guidance on the market. Fellow has seen incredible growth in part because of Jake's steadfast belief in human-centered design and valuing relationships over transactions. Digital has enabled entrepreneurs like Jake an opportunity to start conversations directly with customers and it's transforming almost every industry. He joins the podcast to discuss getting as close to your customer as you can, using digital to creatively market and sell physical products, and how taking the right risks can pay off.
Our Guest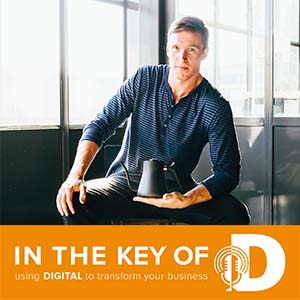 Jake Miller
Jake Miller is the CEO and Founder of Fellow, a product design company on a mission to help people brew ridiculously good coffee at home. Jake first got excited about coffee while working in marketing at Caribou Coffee. Working with the Roastmasters and traveling to origin opened his eyes to the specialty coffee world. It was at Caribou where Jake was able to see the need for beautifully functional home coffee gear. Jake holds a degree in marketing from the University of Saint Thomas, and an MBA from Stanford GSB. Fellow was founded out of the d.School at Stanford.
Show Notes
In this episode we cover:
[0:52] Jake Miller Bio and Introduction
[2:45] Jake talks about his inspirations and passions as an entrepreneur, and how they lead him to found his company, Fellow.
[5:45] What were the biggest challenges in founding Fellow? Jake talks about engineering and developing physical products with a pure marketing background and what he learned about manufacturing products at scale.
[7:25] Jake discusses his product portfolio expansion and how digital helps his coffee products.
[8:30] As a startup, how did Jake and Fellow approach "customer research" or market studies? Jake talks about using Human-Centered Design and its four key components: "Empathize, Ideate, Prototype, Iterate."
[9:30] Jake speaks to his strategic approach to selling: distribution, wholesale partners and e-commerce.
[11:25] Jake offers advice for entrepreneurs who are starting out on how to use digital platforms. "Stand it up, see what happens. Be strategic from there."
[12:55] Fellow has only one brick-and-mortar store, their "San Francisco Playground." Jake talks about experiential retail, the evolution of customer service, and what's special about this store.
[15:35] How did COVID-19 affect Fellow's business? Jake talks about the challenges and (some silver linings) of the pandemic including its impact on product design, quality assurance, price increases, and more.
[19:00] Costs of labor and raw materials have gone up globally in 2021, how do Jake and Fellow handle those increases?
[20:00] Jake talks about supply chain disruption and Fellow products, and how the company pivoted to better reach customers during COVID.
[22:00] Jakes discusses how much he leverages digital marketing to grow sales and connect deeply to their customers.
[24:00] What types of "traditional" marketing is Fellow doing? How many countries is Fellow marketing in? Jake talks about all things marketing for Fellow: social, direct mail, influencers, sponsorships, and more.
[27:30] Rapid Fire! Fun questions and fast answers with Jake Miller.
[29:10] Wrap-up: How does Jake stay current on all things digital? What is the next big thing in digital?
[30:45] Gino & Kathy's Key Takeaways
Links & Resources:
Contact Jake by email:

This email address is being protected from spambots. You need JavaScript enabled to view it.

Visit Fellow.
Explore "Fellow Drops," the company's text-to-order coffee program.
Visit Shopify, the platform Jake used to first sell Fellow products.


"Key" Takeaways
For entrepreneurs with a marketing background who are getting a start in product design – It might take a little pure arrogance to think you can figure out the engineering side of the business. Sometimes that's OK! Jake took several big risks when he started Fellow, which ended up teaching him a lot of important lessons about product design and development, even if he sometimes wishes he'd have chosen to partner with an engineer who knew coffee products from the outset.


When starting Fellow, Jake didn't invest in big market research. Because coffee product design is a niche market, Jake opted to find out how real coffee lovers wanted to brew coffee.


Jake is committed to Human-Centered Design for Fellow Products. The four principles of Human-Centered Design: Empathize, Ideate, Prototype, Iterate.


Supply Chain issues — Fellow paused to do formal research to make decisions on price increases, hoping the market will turn around. Research takes time.


Digital marketing is more than just driving transactions; it's about driving relationships. Digital has enabled companies to get closer than ever before with their customers and add value to their lives. Entrepreneurs and marketers sometimes forget that real people are clicking and going through the shopping process. Keep this in mind when building e-commerce websites. ROI can be more of a future motivation. What is keeping your customers moving through the funnel right now? Consider elevating the conversation with your customer first.


When you hit a rough patch, come back to and stay true to the mission. Fellow's mission (Help People Brew Ridiculously Good Coffee) helped them make difficult decisions during COVID-19 and the company's early growing pains. The mission should be alive and embodied by the human beings who are running the business. Passion is important to success.


Jake's advice for starting a business is, "Stand it up. See What Happens. Then Be Strategic." For a business with high-quality products, that meant to try it and look to wholesale or distribution channels that can support your products. Balance the desire to sell directly while understanding some business will come through partnerships.


Fellow leverages influencers in an innovative way that adds value to their brand without adding costs. Enable people who are experts to promote and talk about your brand/product. Fellow using organic relationships with expert baristas to tell their story in an authentic way. When a brand's story is authentic (not paid for), customers recognize this and gravitate toward your product.


Sometimes we need people to take chances on us as entrepreneurs or professionals. So many careers come full circle, as they did with Kathy and Jake. Kathy has taken a chance on hiring new talent like Jake and Gino! Pay it forward when you can to mentor and offer advice to others. If you're in a leadership or management role, keep in mind that raw talent can be molded. Take care of your people. There's a war for talent out there, so make human connections a priority.