episode 12
Making Easy Things Even Easier with Cole Ranzau
Knowing and anticipating what your customer needs from digital experiences is easier said than done. For business leaders first entering this evolving world of user experience strategy and the "tech stack," it can feel like climbing an ominous mountain. Thankfully, Cole Ranzau, who leads an experience strategy team at Strategic Education, Inc. (SEI), joins the podcast to help us get our footing on how to use digital to create compelling experiences. Cole digs into using focused data and analytics to tell engaging stories, breaks down his "3-Headed Attack" for solving UX challenges, and explores why the "making easy things even easier" mindset is pivotal to building successful digital experiences for customers.
Our Guest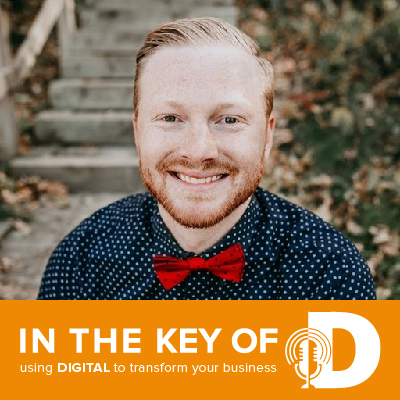 Cole Ranzau
Cole Ranzau is a passionate digital marketer who has spent the majority of his career working with the Minnesota Timberwolves and more recently in higher education at Strategic Education Inc. Over his 8 year career he has some great experience in many different areas of digital including paid search, SEO, conversion rate optimization, UX, and content strategy/ He has led multiple site redesigns and is currently leading a Testing Insights & Experience Strategy team at SEI.

Aside from his full-time gig, Cole also has a side hustle. He and his wife run a travel blog (look about lindsey) focused on redefining travel, exploring the hidden gems right here in Minnesota and beyond.
Show Notes
In this episode we cover:
[1:00] Cole Ranzau Introduction
[2:20] How does Cole define Digital Transformation as it relates to developing compelling customer experiences?
[3:15] Cole talks about managing his experience strategy team's roles and responsibilities at Strategic Education, Inc. (SEI)
[4:00] Cole breaks down the brands of SEI, including his team's focus on prospective students who use the Strayer University & Capella University digital properties.
[5:00] How can you transform a non-digital brand or company into the digital space? Cole offers his experience and mindset when it comes to using formal and informal UX research to bridge the physical and digital space.
[6:20] The COVID-19 crisis has revealed a lot about companies and digital, including which digital experiences fell flat and why, i.e. restaurants that didn't leverage digital to do takeout meals successfully. It's key to learn from these shortcomings to build a better digital future.
[7:50] We dive into a conversation about analytics: How do Cole and his team zero-in on and measure out the right data, rather than chasing distracting data? Cole talks about his "3-Headed Attack" for using data, analytics and testing to solve user problems.
[9:50] First getting into digital strategy and experience can be daunting; data and analytics feels like a BIG undertaking. How do small to midsize business leaders get started in this space? Cole offers practical insights on leveraging data, analytics and technology to better serve your customer and by starting with ONE pain point
[11:15] Cole defines what "Experience Strategy" means and how it factors into his role at SEI.
[13:15] Cole talks about the power of influence and storytelling for the purpose of gaining organizational buy-in and moving customers along on a journey.
[14:10] Cole discusses his customers, who are prospective students of Strayer & Capella Universities, and breaks down how his team creates an experience strategy.
[15:30] How has COVID affected the customer journeys that you're trying to create for your audiences? Cole discusses customer journey maps and strategies for adapting to the times, including making how they re-engineered some online coursework to be like the "Netflix of Higher-Ed."
[17:00] What processes ensure that customer handoffs are successful from team to team within the organization? Cole explains his team's focus on prospective students through the application process, and how others in the organization engage in other part of the student journey.
[19:00] How does Cole keep his team engaged while working remotely? 
[20:00] Coles talks about his hiring strategies, digital marketers vs. tactical SMEs, what he looks for in candidates, and how to create a balanced and successful team through passion.
[22:50] Cole explains the process behind "testing" digital experiences and all the steps involved for his team at SEI.
[26:45] Cole has a side hustle: a travel blog with his wife Lindsey Ranzau, which he helps develop and maintain digitally. How have they had to pivot during COVID? What's changed in their approach to creating relevant content?
[29:35] Rapid Fire - Fun Questions & Fast Answers with Cole 
[32:00] Wrap up Questions: How does Cole stay current in digital?
[33:30] What's the next big thing we should look for in the future of digital? 
[36:10] Key Takeaways with Kathy & Gino
Links & Resources:
"Key" Takeaways
Cole embodies and deploys a practical and personal approach to user experience. It's best to put yourself in the shoes of the customer and have a passion for giving them a great and easy experience using your digital products. Direct your energy into getting it right. Try to look at your own needs as the customers' needs.
Don't try to "boil the ocean" or doing the most complicated aspect first when solving problems. Go after the biggest pain point first. Consider what solutions might also be "high impact, low burden." This way of prioritizing can help ground your strategy and engage your team. Solve A problem first, not many. Make Easy Things Easier. Find a pain point and just make that one better.
"3 Headed Attack" of Using Data To Solve User Problems: Web Data, 'what' a customer is doing and 'where' they're doing it; UX data & research, customer motivations & needs – the 'why'; Testing, discover what experiences works best for customer
UX research can be formal or informal, just don't let it become a joyless numbers game. There's an element of humanity to user experience that can't be overlooked. UX Research can even be as simple as going to talk to people within your organization, getting their input and trying to understand their challenges first.
Look beyond your competitive set. Instead of getting fixated on what you and your direct competitor is doing, be sure to stop and look around at what other big digital players are doing (like Amazon). Chances are your customer will base their response to your digital product off of their experience with the big brands.
For instance, Cole's team looks beyond online universities and analyzes "best in class" digital experiences offered by Amazon, Apple, Google, Netflix etc. to anticipate what their customers are accustomed to and might expect.
Communication and adaption during crises are important. Keep an open line of communication with people in your organization who touch that same customer touchpoints along the journey. SEI started offering a "Netflix for Higher-Ed" model for one of their Sophia Learning business in which they changed the pricing model and accessibility in response to the pandemic.
The power of influence and storytelling is more important now with so many digital channels available. Using stories helps to make numbers more human. Telling compelling stories trumps showing only quantitative data or graphs. Stories are emotionally engaging and help "level-set" within your organization, across teams and functionalities. These stories help get bu