episode 4
Small Bets Placed Often—Featuring Jen Swanson
Digital transformation is not a toaster, you can't just plug it in and expect it to work. It's also not a big budget project that you wash your hands of after the end-date. So, what is it? One way to think of it is as a series of small bets, placed often. Founder and principal of her own highly-successful consulting business and former VP of Digital at Optum, Jen Swanson joins the podcast to discuss digital risk and reward, how she helps companies integrate digital into their business strategy, and why projects end but products endure.
Our Guest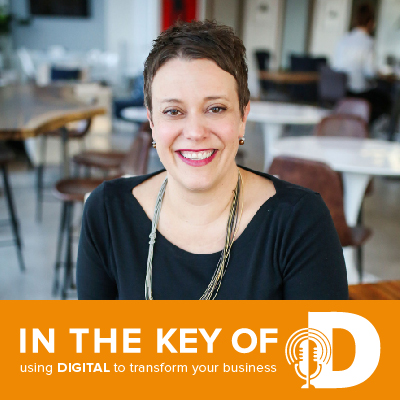 Jen Swanson
Founder & Principal, Jen Swanson Consulting
Former VP of Digital Product, Optum (a division of Unitedhealthgroup)
Jen Swanson is the Founder & Principal for Jen Swanson Consulting, a digital transformation and product leadership practice that helps organizations deliver exceptional, profitable digital products and services. Most recently working as the VP of Digital Product for Optum, (a UnitedHealth Group company), her career spans over 20 years in advocacy, marketing, and operations roles in higher education and healthcare organizations including the University of Minnesota, Capella University, and Children's Hospitals and Clinics of Minnesota. Throughout these experiences, Jen has maintained an insatiable curiosity for technology and a drive to use it to find innovative solutions to business challenges and keeping consumers engaged.
Jen is also is a passionate advocate for and mentor of women in leadership roles in business, technology, non-profit, and social enterprises. She currently serves as the immediate past president of Ellevate Network – Twin Cities, working to close the gender pay and leadership gap through programming and networking opportunities for our community. Jen is also known as "Mom" to two active boys, and loves cooking, pickling, and any outdoors activity that allows her to soak in all that Minnesota has to offer (except, maybe, in January). She can be found at LinkedIn and Twitter at @jgswanson and at jenswanson.net.
Show Notes
In this episode we cover:
Jen Swanson Introduction [1:10]
How does Jen define digital transformation? [1:48]
What is the biggest upside for businesses? [3:30]
What is holding companies back from integrating digital? [6:50]
An Evolution from Project to PRODUCT management & focus [9:40]
How does product over project mindset work in day-to-day practice? How Jen goes in and helps companies. [15:45]
What are the core characteristics of a good product manager? [20:08]
Jen is technology "agnostic," meaning she doesn't know how to build technology; so how does she bring technology out of IT and integrate it into the business? [24:00]
"Business People" vs. "Technology People" [27:15]
What does it mean to apply "Agile" principles to make an entire business better? [29:15]
Rapid Fire! Fun facts and fast answers with Jen [33:50]
Wrap up Questions: How does Jen stay current on all things digital? What is the next big thing in digital transformation? [37:35]
Kathy & Gino's "Key" Takeaways [41:30]
Links & Resources:
"Key" Takeaways:
Projects end but products endure. Meaning digital platforms stop evolving the moment you stop working on them. Digital products must be cared for and nurtured over time.
Agile vs. agile. Big "A" Agile is the formalized software development process, little "a" agile just means adopting "Agile" principals and applying them throughout departments like HR,
Operations, Marketing—agility is not just for IT.
Happy employees make happy customers. Digital makes it easier for employees to do what they do.
Change mindset from digital supporting strategy to digital being THE strategy.