episode 7
Evolution Not Revolution—Featuring Stuart Harris
"Go big or go home" doesn't equal success for companies undertaking digital transformation. It's so important to hit smaller, measurable goals before swinging for the fences. As Group President of Digital Transformation at Emerson Stuart Harris knows, companies must have a clear strategy before deploying new technologies. He joins the podcast to discuss the key aspects of driving digital change and how Emerson is helping their customers evolve dynamically.
Our Guest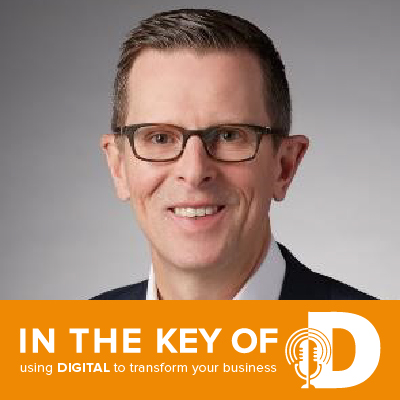 Stuart Harris
Group President, Digital Transformation
Emerson Automation Solutions
Stuart Harris became group president of Digital Transformation for Emerson's Automation Solutions business in September 2019. In this role, Harris leads a business responsible for leveraging Emerson's technologies and expertise to help drive business performance for key industries. Emerson, a longtime leader in automation and Industrial Internet of Things technologies, combines its deep industry knowledge with leading technologies to empower customers to optimize operations and realize measurable results.
Harris most recently served as vice president of planning and global marketing officer for Emerson's Automation Solutions business. In this role, which he held from October 2014 to September 2019, Harris led global strategic planning, marketing, digital strategy and industry programs for Automation Solutions, a $11.4B business platform of Emerson.
Harris joined Emerson in 1986 with Fisher Controls, Systems for Europe, Middle East and Africa. He held roles of increasing responsibility until being named manager of business development for asset management solutions at Fisher-Rosemount in 1998.
In 2000, Harris was appointed director of marketing for asset management solutions for Emerson's Process Management business. He held this role until 2003, when he was named vice president of marketing for asset optimization. In 2010, he was appointed vice president and general manager of asset optimization for Emerson Process Management. Harris was appointed vice president of planning for Emerson Process Management in 2011, a role he held until his promotion to vice president of planning and global marketing officer for Emerson's Automation Solutions business.
Harris holds 10 U.S. patents for software, information integration and visualization.
He received his Master of Science degree in marketing and postgraduate diploma in marketing management from Staffordshire University. He received his CIM diploma in marketing from the Chartered Institute of Marketing and higher national certificate in business and finance from De Montfort University.
Show Notes
In this episode we cover:
Stuart Harris Introduction [1:06]
How does Stuart define digital transformation? [2:11]
What's the biggest upside to taking on digital transformation for companies? [3:20]
What is holding companies back from undertaking digital transformation journeys? [4:56]
Stuart talks about leading the new business division devoted to digital transformation. [6:10]
Who are Stuart's team's clients and who do they engage with on the client's team? [8:15]
How has Emerson moved from being "hardware" oriented to helping companies develop a digital strategy? [11:45]
What are the critical success factors for a company's digital transformation? [16:00]
Rapid Fire! Fun facts and fast answers with Stuart [20:15]
Wrap Up Questions: How does Stuart stay current on all things digital? What's the next big thing in digital? [23:00]
Kathy and Gino's "Key" Takeaways [27:06]
Links & Resources:
Email Stuart:

This email address is being protected from spambots. You need JavaScript enabled to view it.
"Key" Takeaways
Strategy, not technology, drives digital transformation. Failure to develop a strategy is the single greatest pitfall a company can make when going digital.
You need support and active engagement from a company's leadership to drive alignment. Involve all aspects of the business: IT, HR/Organization Dev groups. Employee buy-in is critical.
Digital transformation is the use of smart, connected technologies to solve problems. Start small, focus on a goal and drive from there.