episode 13
Giving Freedom Within the Guardrails—Featuring Kymm Bartlett Martinez
Every brand wants to go viral. But as a marketing or business leader, how do you know when your messaging is going off the road? Install guardrails, says executive Kymm Martinez. Staggering success has followed Kymm from her work with CPG giant General Mills to her current role as VP/Chief Marketing & Communications Officer at the University of St. Thomas. She understands that as digital evolves, trendsetting marketers must pay attention to cultural transitions, take risks on experimental channels, and understand brands as more than just products, but also as the people who use the brand. In this episode of In the Key of D, Kymm shares a wealth of insight on leadership and fostering creative freedom that stays between the rails.
Our Guest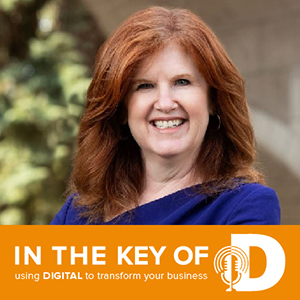 Kymm Bartlett Martinez
Vice President of Marketing, Insights and Communications, Chief Marketing Officer and Chief Communications Officer University of St. Thomas Saint Paul, Minnesota
Kymm is the first-ever VP / Chief Marketing Officer and Chief Communications Officer (CMO/CCO) for the University of St. Thomas, the largest private university in Minnesota. The University created CMO/CCO role in 2016 to raise the profile and visibility of St. Thomas. Kymm stepped in to conceive and lead the centralized Marketing, Insights and Communications department with responsibility for orchestrating the digital transformation of the university's marketing and communication efforts, providing a vision for the St. Thomas brand, bringing a results-focus and data-driven orientation to marketing decisions, translating student insights into growth strategies and overseeing media relations and crisis communications. Kymm serves as one of the officers on the President's Senior Staff.
Prior to joining St. Thomas in 2016, Kymm spent nearly 20 years in general management and marketing with General Mills. Promoted to Vice President in 2012, she served as one of only 40 women officers globally within a company employing more than 30,000. She has experience managing P&Ls for large established businesses and new product units both domestically and in Latin America ranging in size from $500 million to $1.2 billion. Her brand experience includes work with global brands such as Cheerios, Pillsbury, Chex Mix, Yoplait and Betty Crocker. Her experiences and competencies cover P&L management, brand management, business strategy, digital marketing transformation, campaign development, new product development, consumer insights, crisis communications and media relations.
Kymm graduated magna cum laude from Mount Holyoke College with a B.A. in International Relations/Economics. She also holds an M.B.A. from the Kellogg School at Northwestern University in Evanston, IL. Conversationally fluent in Spanish, she has lived abroad in both Madrid, Spain and Mexico City, Mexico. Kymm currently lives in Golden Valley, Minnesota with her husband, Ivan, and their two children.
Show Notes
In this episode we cover:
[1:15] Kymm Martinez Introduction
[3:05] Kymm talks about her career journey as a marketing leader
[5:40] At what point in Kymm's career did "digital" start kicking in? How did she first start using digital as a marketing leader?
[7:45] Kymm tells stories about earlier marketing campaigns that included digital, going back to the emergence of digital couponing and websites in the year 2000.
[10:00] Kymm talks about her role and responsibilities as CMO at the University of St. Thomas plus: What are the differences between higher-ed and CPG?
[11:25] How did digital play a role in the CPG industry? Kymm talks about the difference between consumer strategies and customer strategies.
[12:35] Kymm's team used TV broadcasts at General Mills - did she replace that spend with digital later? Kymm explores her 70/20/10 model for allocating creative/marketing resources and the importance of using experimental channels.
[14:50] How does Kymm keep her marketing teams hypertargeted and nimble on a campaign level, yet holistic and unified at a brand level? Kymm talks about brand guardrails, creative limits and determining appropriate messaging for your brand.
[18:58] Kymm gives examples of guiding principles of brands. She explores how it's worked and her strategies at St. Thomas.
[22:30] Kymm talks about what kinds of lessons she learned in her early CPG days using digital: what learnings has she taken from then to use now?
[25:15] Kymm talks about why trust within a team is so important and offers best practices for keeping a team engaged and moving forward.
[28:04] There was an overhaul of University of St. Thomas Marketing Department when Kymm first started as CMO: How did Kymm work through that overhaul to find and keep talented people on her team?
[29:55] COVID has driven online learning – but has it also impacted the marketing of higher-ed programs or courses? Has anything shifted in the realm of teaching online vs. marketing the teaching online? Kymm offers her perspective.
[33:20] Rapid Fire: Quick Questions and Fast Answers with Kymm!
[35:30] Wrap up: How does Kymm stay current on digital?
[36:30] Wrap up: What's the next big thing in digital from Kymm's opinion?
[38:20] Key Takeaways with Gino and Kathy
Links & Resources:
"Key" Takeaways
We often think that social drives what goes viral. Kymm turns it around and says that instead the need for going viral drives social. The channel is the enabler of the consumer behavior you want to drive.


Digital played a bigger role than Kathy or Gino expected within CPG giant General Mills during the emergence of digital in the early 2000s. Catalina couponing was one of the very first digital re-targeting tools used.


Kymm allocates her marketing resources to achieve the best results using a 70/20/10. 70% of goes to tried and true channels, 20% goes to emerging channels or "up and coming" channels and 10% goes to experimental or unproven channels. Those experimental channels can lead to innovation. If you don't devote some resources to experimenting, you'll be passed up by other companies.


Don't Assume digital is a "One-Size-Fits-All" model. Though many digital tools evolve to become more universal, it's important to distinguish between different digital channels that can work for different brands, products, and parts of your business.


Know that your brand is not just a set of rules or products but is also: the people who use your brand. Therefore, you have to use the digital channels that the people who use your brand are interested in and using.


There's still a need for a traditional marketing methods, like "viewbooks" mailed to prospective student's homes. Digital is great to target messages by audience, but rarely do you get the opportunity to share messaging across all audiences. Keep your mind open to traditional and new methods of marketing as it is still very efficient in building awareness.


Guardrails lead to creative/marketing freedom. As marketers and leaders, you must define what your brand stands for (those are the guardrails) and document it. For your team: be crystal clear on what the guardrails are, explain the why, and then enable your people to make their own decisions. Teach, give guidelines, turn them loose!


If you can catch a consumer in transition, you can create new behaviors. All of us are in a huge transition period right now; it's an opportunity for business leaders and marketers to introduce new behaviors to consumers, which can unlock new digital products and drive innovative ideas.