episode 11
Going Over-the-Top with Pete Harrison
Startups don't have the luxury of being sluggish out of the gate. Analytics are more rigorous, budgets are more constrained, and investors are watching the clock. It's not so much "less is more" as "do more with less and do it quickly" for these small to midsize businesses working to launch their company and products. Pete Harrison, seasoned startup advisor and digital marketing leader, joins the podcast to share his insights on leveraging digital channels and testing to get to market more quickly. He explains how OTT (over-the-top) TV Advertising (ads for streaming TV) compares to Linear TV Advertising (ads for broadcast TV), plus why and when to use these channels.
Our Guest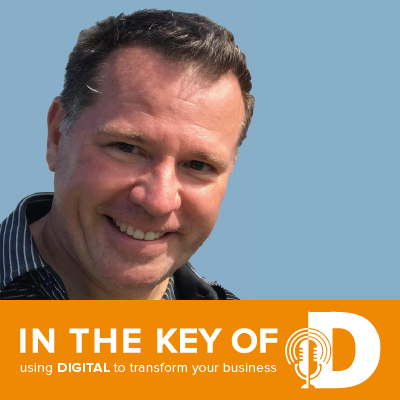 Pete Harrison
Pete Harrison is a startup marketing advisor based in San Francisco. He's helped founders at over 40 early-stage companies launch and scale their ideas into a business — including Travelocity, TripIt, TopGolf, Kespry, NerdWallet and Thumbtack — with 14 positive client exits to date.

https://www.linkedin.com/in/peterharrisonrunningstart/
Show Notes
In this episode we cover:
[0:50] Pete Harrison Introduction & Background
[2:25] What role does digital play in helping companies go to market quickly?
[3:20] What's the biggest upside for startups in embracing digital transformation?
[4:06] What holds digital transformation back for startups and small companies?
[5:12] How strict is the measurement framework for startups? Pete talks about the significance of analytics and early testing.
[6:36] Pete speaks to the evolution in TV advertising and the key role of search and social advertising.
[8:25] Pete defines OTT (over-the-top/Streaming) TV and Linear (broadcast/network) TV advertising, plus the differences and similarities between them.
[9:35] How has COVID impacted streaming TV and linear TV?
[11:23] Pete offers expert advice for companies looking to buy either linear or OTT advertising, breaking down the options, typical levels of spend and measurement.
[14:00] Pete discusses the production costs for advertising on various digital channels, plus time and cost saving options for companies on a tight budget.
[17:06] Pete explains why the ROI on OTT (streaming TV) advertising is much stronger and why testing is much tighter, and how to effectively use your new or existing creative content for different digital channels.
[18:10] Pete talks about what an "Explainer Video" is and why it's a great place to start.
[19:45] Deeper dive on the specifics of running ad campaigns for OTT (streaming TV); including the benefits of device targeting which OTT allows.
[22:01] Pete discusses where to get started, managing your budgets to get the most of our content, and when the time is right to invest in OTT advertising.
[23:43] We talk about the "Spending Plateau," based on an article Pete wrote.
[26:20] Rapid Fire - Quick Questions and Fast Answers with Pete
[28:30] Wrap Up questions - How does Pete stay current in all things digital?
[29:30] What's the next big thing in digital that we should look out for?
[31:40] Kathy & Gino's key takeaways
Links & Resources:
"Key" Takeaways
TV is a viable digital channel and shouldn't be overlooked! OTT advertising is more performance based in that it allows companies to test, measure and tweak quickly with audiences. It allows companies on tight budgets to include advertising in their marketing mix.
OTT TV Advertising is different from Linear TV Advertising which is the traditional TV Advertising. In traditional advertising campaigns, there's more of a waiting game to determine how successful a campaign is. With OTT, you can pull activity through to an actual purchase by a customer which allows a marketer to be more flexible and shift budget into the channel/creative that is working.
But be warned, both OTT and Linear campaigns can be expensive, as you still need to spend on both the media and the production of the creative content to be broadcast. It may not be the very first thing new businesses should undertake to promote their product(s), and perhaps a social campaign or website development should come first.
A "Spending Plateau" is the notion that you "run out of people that you can reach profitably through a single advertising channel." You can't create demand, and you can't spend twice as much money and get twice as much result. There's a plateau of response that your company will experience. The key is to diversify spending to different digital channels. Success depends on a mix of search, social advertising, and OTT (streaming TV).
There are really now 7 Digital Channels. The 6 digital marketing channels commonly referred to include: website, display, search, social, email and mobile. OTT (Streaming TV) Advertising has now become a 7th viable digital channel.
How does digital help startups and midsized companies? Long story short: It helps them get their product or company to market faster. It requires more discipline around the measurement aspect but allows for faster testing with audiences via multiple channels to find out what works. Digital helps these companies access results immediately with more accurate ROI tracking.
Utilize the content you already have. If you're using videos for social media, there's a good chance that content could be effective on streaming TV ads as well. One example of this is an "Explainer Video" which is a brand's main story, often in the form of a short, animated video. Using existing content like explainer videos helps companies manage production costs effectively and get into market more quickly.
In the startup world, people don't resist change as much as they might in older, larger companies. For new businesses, digital transformation is the way forward. Often, startups are a team of new people who are ready for change and already understand the evolving power of digital. The big challenge becomes budget and effective investment of available capital.