episode 6
Keep the Talent, Lose the Fear—Featuring Darin Lynch
What's the secret sauce for creating a digital culture that promotes company flexibility, talent retention, and fun? Hint: It's not just a pint of Irish beer (although that can help). Award-winning business leader & Irish Titan CEO/Founder Darin Lynch joins to talk about how weaving digital and technology throughout your business practices can nurture a culture that keeps the best talent around, drives change, and promotes scalability for businesses, while also fully enjoying the journey.
Our Guest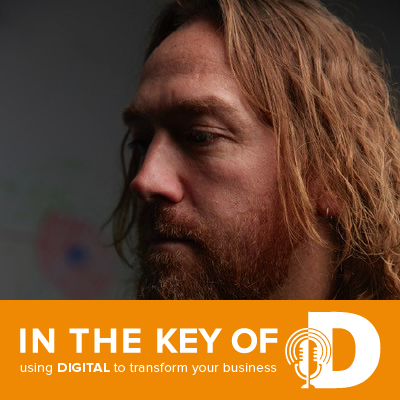 Darin Lynch
Founder & CEO of Irish Titan
Darin Lynch is the Founder and CEO of Irish Titan, a digital agency focused on ecommerce & digital, design & creative, content & strategy. Darin offers over 25 years of digital, marketing, sales, technology and leadership experience ranging from Fortune 100 financial firms to national retailers to start-up and early stage companies.
Darin has trademarked "Business First. Online Second.", as it's one of the key principles that defines Irish Titan's "Why". That serves as the foundation for the team of over 40 Titans, their hundreds of clients, and the range of services provided by Irish Titan since 2004.
Darin is a regular speaker at national and local events and has been honored as a 40 Under 40 winner by the Minneapolis St. Paul Business Journal, one of the Real Power 50 by Minnesota Business, is a member of the Federal Reserve Board Small Business Council, serves on the University of St. Thomas Schulze School of Entrepreneurship board, and is a mentor for the MN Cup. Darin has also bought Clint Eastwood a beer and is a former presidential candidate. Honestly. But both of those stories are better shared in person.
Show Notes
In this episode we cover:
Darin Lynch Introduction [00:52]
How did Darin get started in digital? [1:40]
What was Darin's motivation to start Irish Titan? [3:25]
How does Darin define "digital transformation"? [5:48]
What is the upside for companies willing to take on digital? [7:10]
What's holding companies back from going digital? [11:19]
People, Process & Technology - What drives and slows change? [13:39]
Darin's Business Philosophy: "Business First, Online Second."™ [15:15]
How does Darin tie digital and business strategy together with technology? [18:30]
How to hire advice and what are Darin's people management practices? [22:52]
How did Darin build Irish Titan's culture? [26:25]
Words of wisdom for companies moving into e-commerce/online space? [31:24]
How do companies and leaders get started in digital transformation? [33:36]
Rapid Fire! Fun facts and fast answers with Darin [35:50]
Wrap up Questions: How does Darin stay current on digital trends? What does he think is the next big thing in digital? [41:00]
Kathy and Gino's "Key" Takeaways [45:00]
Links & Resources:
Email Darin:

This email address is being protected from spambots. You need JavaScript enabled to view it.
"Key" Takeaways
Digital transformation is the weaving and embracing of technology into all of your approaches toward business performance.
Digital solutions should be woven through the different disciplines of your business.
Define project or product requirements before coming up with technical solutions and deciding on platforms.
People today want to work at a company where things move quickly. Adoption of tech and digital into all of your practices offers a ton of flexibility to a company and all its employees, which promotes productivity to help retain and extend your company culture.